Conservation and the Climate Crisis
Ernie Crossland was adamant that we need young people to take up the cause of preserving our environment and addressing the climate crisis. This is the scholarship for you if you believe in the cause and want to study to support it. We are doing nothing to ensure the younger generation has the tools to carry on, that's why the Environmental Scholarship is so important, to get the tools to young people so they can carry on where we left off.
The Ernie and Jean Crossland Environmental Scholarship Fund was established by Ernie Crossland, a passionate environmentalist for students living on the Lake Simcoe watershed who are pursuing a degree or diploma in environmental studies at an Ontario post secondary institution. Ernie Crossland's dedication to serving his community began in Newmarket ON where he and wife Jean raised their family of 7 in the historic farm house on Yonge Street, now home to The Sociable Pub restaurant, while the family occupied the home it was a working dairy farm.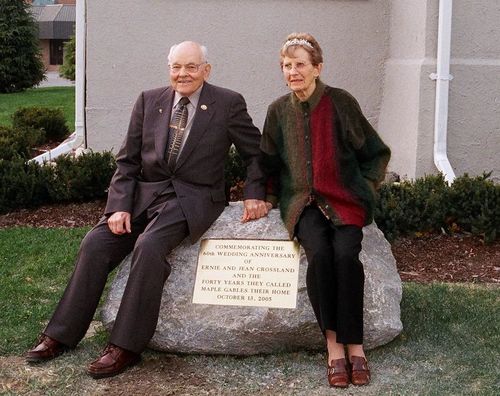 Ernie lived with the spirit of volunteerism and gave his time to many worthy causes including being a loyal member of the North Newmarket Lions Club for countless years. He became known as "Mr. Newmarket" and would always be selling tickets for one fundraiser or another to support a need. After spending many happy days by Lake Simcoe with his family, Ernie was shocked and saddened to see the decline of its fish, aquatic life, and important ecosystems. Through this concern he became active on the board of the Lake Simcoe Conservation Foundation and was involved for over 25 years.